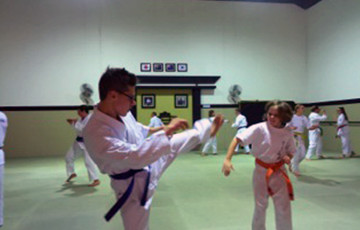 Achievements in attending the sparring course
August 17, 2017
During April-May we held a sparring course at Hombu for orange belt juniors and all seniors.
Renshi Alison says:
"Many people come to the martial arts in their quest to be able to defend and protect themselves and others. For many, sparring is the biggest roadblock in reaching that goal. It can be daunting for the beginner, and some have little idea about how to develop and test their skills in 'live' sparring without either getting injured themselves or battering others."
"The sparring course helped develop skills for the beginner sparring student right through to the higher grade black belts, and the confidence and skill I saw develop in our junior purple and orange belts was nothing short of amazing."
"The course not only let me develop my skills further against other students my own rank or higher, but it enable me to practice bringing out the best in lower grade students through encouragement and gradual increase in their skill set. Working with lower grade students taught me to be more controlled and patient which will I know will only improve my sparring with the higher grades."
Hannah says:
At the sparring course, I learned to protect myself, keep my hands up and use them more, and to move around. I feel I am more prepared for when I am sparring with other students, especially higher belts, even though I am still only a beginner. I had a lot of fun while I was learning.
Get started with your first Taekidokai class today!
Contact Us